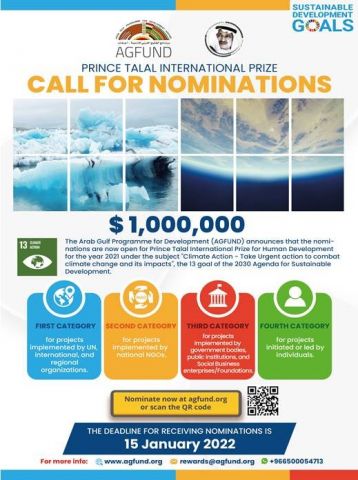 Agency name
Arab Gulf Programme for Development (AGFUND)
The Committee of Prince Talal International Prize for Human Development are pleased to announce that "Climate Action, take urgent action to combat climate change and its impacts "
the 13 goal of the 2030 Agenda for Sustainable Development, is the Prize subject for the year 2021.
Nominations are open for the four Categories as shown below:
1st:  projects implemented by UN and regional organizations. 400,000 US$
2nd: project implemented by National NGOs. 300,000 US$
3rd:  projects implemented by government bodies, public institutions. 200,000 US$
4th: projects initiated or led by individuals. 100,000 US$
The deadline for receiving nominations is 15th January 2022.
To read more: https://agfund.org/prize-overview/
To nominate: https://agfund.org/the-nomination/
Contact Information
Arab Gulf Programme for Development (AGFUND)